7 Stunning Interior Design Ideas to Complement a Fireplace

Fireplaces add a cozy touch to any home and are functional as well. Many people rely on their fireplace for warmth in the winter. Fireplaces in the home can be wood-burning or gas, either will provide warmth and atmosphere to your home. Though fireplaces are an interior design element on their own, there are some great ways to compliment a fireplace as well. A complimentary design can help tie in your fireplace to the rest of your home and create a cohesive look. If you are having a hard time getting inspiration, keep reading because we have thought up some stunning interior design ideas to complement a fireplace. 
1. Glass Media
If you have a
gas fireplace
, one great small element you can add to really tie in your fireplace to your interior design is by adding
glass media
. Glass media goes into the bottom of your gas fireplace and acts as decor. The flames from your fire go right through the pieces, so you don't have to worry about removing them each time. Glass media come in a variety of colors, so you can use it as a pop of color, or tie in your home's accent color. Glass media also reflects some of the light from the fire when in use, giving it more of a sparkling glow. 
2. Wallpaper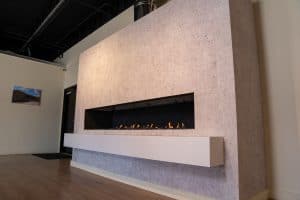 Though you may think that wallpaper is an interior design trend of the past; however, with new designs and technologies, wallpaper has been making a comeback. Placing wallpaper on the wall in which your fireplace is on will complement your fireplace quite well. The wallpaper will draw the eye and ensure that the fireplace becomes a nice focal point for the room. Keep in mind that if you don['t have perfectly smooth walls, you'll need to choose a
wallpaper for textured walls
specifically to execute this idea properly. 
3. Faux Wood
Another interior design idea that can be adapted for both gas and wood fireplaces is the addition of faux wood placed in the fireplace. For gas fireplaces, there are
log sets
that make it look like a wood-burning fireplace while using it, but these log sets also add a nice aesthetic while the fireplace is not in use. For wood fireplaces, you can utilize faux wood sculptures or even real logs as a decor accent to fill the space while not in use. Just remember to remove anything you don't want burning before lighting your fire!
4. Window Treatments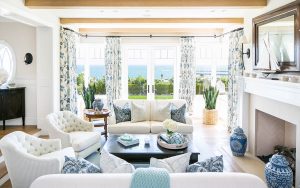 Not only are window treatments an essential element to all interior design, but selecting the right ones can complement a fireplace as well. To complement a fireplace, go with light and
sound dampening curtains
. They come in a variety of designs and colors to add some life to the room, but more importantly, they are a functional interior design idea. Light and sound dampening curtains can be pulled when using the fireplace so you can hear the crackling sound of the fire and see the illuminating light without distraction from the outside world. 
5. Colored Firebricks
Every fireplace has to have a fire-proof base and walls. Typically, the insides of fireplaces are a standard black or concrete color; however, you can actually use
firebricks
to make your fireplace more of an element in your interior design. Firebricks come in a variety of colors so that you can make your fireplace cohesive with your home decor. Like with glass media, go with an accent color to draw more attention or use your home's existing colors to help it blend in. 
6. Faux Hardwood Flooring
Faux hardwood flooring
is simply stunning on its own, but it's also perfect to complement a fireplace. Faux hardwood flooring can be rustic or modern to fit your aesthetic and also comes in a variety of colors and finishes. Not to mention that it is easy to clean, especially if you are bringing wood in for a wood-burning fireplace.
Design pro tip: To draw the eye to the fireplace as a focal point, lay the grain of the faux hardwood flooring leading towards the fireplace instead of parallel to it. 
7. Matching Trims
Another interior design idea to complement a fireplace is to match your crown molding to your
fireplace trim
. Most fireplaces have trim around them and a lovely mantle. However, adding crown molding or matching baseboards will complement your fireplace really well. 
Get the Best Fireplace and Accessories to Complete Your Interior Design
Not all fireplaces are created equally, so if you are in the market to upgrade or purchase a fireplace,
Earthcore
is your go-to company. Offering both gas and wood fireplaces and accessories for the last 30 years, Earthcore is an industry leader in modular masonry fireplace systems. Complete your interior design utilizing these design ideas that will complement your fireplace. 
Todd Gillman is the content director for the
Innovative Building Materials
blog and a content writer for the building materials industry. He is focused on helping fellow homeowners, contractors, and architects discover materials and methods of construction that save money, improve energy efficiency, and increase property value. 
Subscribe To Our Newsletter
Get updates about our newest products
Blog Posts
Share This Post The Ultimate Guide to Vent-Free Fireplaces If you're looking for a traditional fireplace but your project specifications don't allow for a venting
Blog Posts
Share This Post The Power of Pumice From new construction to backyard gardens, pumice is a great addition. Here's why: Why Pumice It's truly one