Isokern Fireplaces creates New Linear Series that Exceeds Modern Standards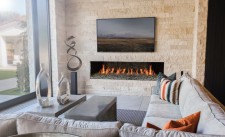 HOUSTON, January 23, 2020  – 2019 was often remarked as a definitive year to observe popular home buying, styling and selling trends. And while there is still a lot to unpack, we know one thing is for sure: Times are still changing, and so is the housing market. And according to an article from Realtor.com, millennials will be the ones doing the driving.
The article states, "The largest cohort of millennials will turn 30 in 2020—historically, that's when people tend to think of buying their first home … By the middle of the year this generation will account for more than 50% of mortgages taken out in the country. That's more than all other generations, combined."
This all begs the question, what home features will encourage a millennial to take the house-buying plunge? Well, an article from Business Insider states that, "Millennials typically have an affinity for a minimalist lifestyle and aren't interested in the outdated interior design that often characterizes baby boomers' homes."
To put it plainly, they want modern.
"There are plenty of ways to modernize a home, but one of the best and most overlooked ways is with a fireplace," states CEO of Isokern Fireplaces, Carl Spadaro. Millennial buyers are often skeptical about fireplaces and their ability to add value to a home because they seem high maintenance or dangerous. But fireplaces can check all the boxes for young home buyers by being modern, sustainable and easy to maintain.
One of the ways Isokern Fireplaces is accomplishing this as a company is by creating new fireplaces, like the all-new Maximus Linear Series. It's a gas burning fireplace with a sleek, modern design and no shortage of customization potential. It comes in an open front or glass front firebox and can be finished with colored firebrick, colored glass media and optional log sets. And the best part? They're all made from sustainable, Icelandic pumice which is a natural insulator and an environmentally friendly material.
For more information on how you can incorporate this new linear series into a project or new home build, visit Earthcore.co.