Largest Fireplace on the Market Now Available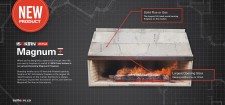 CHESAPEAKE, Va., April 1, 2019 – The Magnum+ wood burning fireplace by Isokern is taking fire to newer, greater lengths.
Boasting a maximum length of 10 feet and approximate opening heights of 47 inches, the Magnum+ fireplace is the largest and only UL listed Wood Burning Fireplace currently in production. Scheduled to hit the market this month, it will be available for use in any residential or commercial project.
Like all Isokern fireplaces, customers can choose from a range of firebrick colors and patterns to ensure that the look of the fireplace is just as impressive as its hearth size. Magnum+ models come in sizes of 7, 8, 9 and 10 feet. Isokern has also made plans available through caddetails.com.
All Isokern products are made from genuine volcanic pumice, extracted from Iceland's Mt. Hekla Volcano. Pumice is sent directly to Earthcore's manufacturing facility in Chesapeake, Virginia, where it's pressed into modular fireplace and chimney components. This process results in Earthcore's line of environmentally safe, incredibly efficient fireplaces, chimneys, kitchen panels, and wood-burning oven components. Of these products, the Magnum+ is by far Earthcore's most lengthy accomplishment…literally!
Visit eartchore.co for more information or to find a showroom near you.